Latest Book by Tidal Grace, MA (Honours)
Triumphing Over Depersonalization: A Guide for Therapists, Individuals, and Loved Ones Get Your Copy of this Depersonalization Book Today!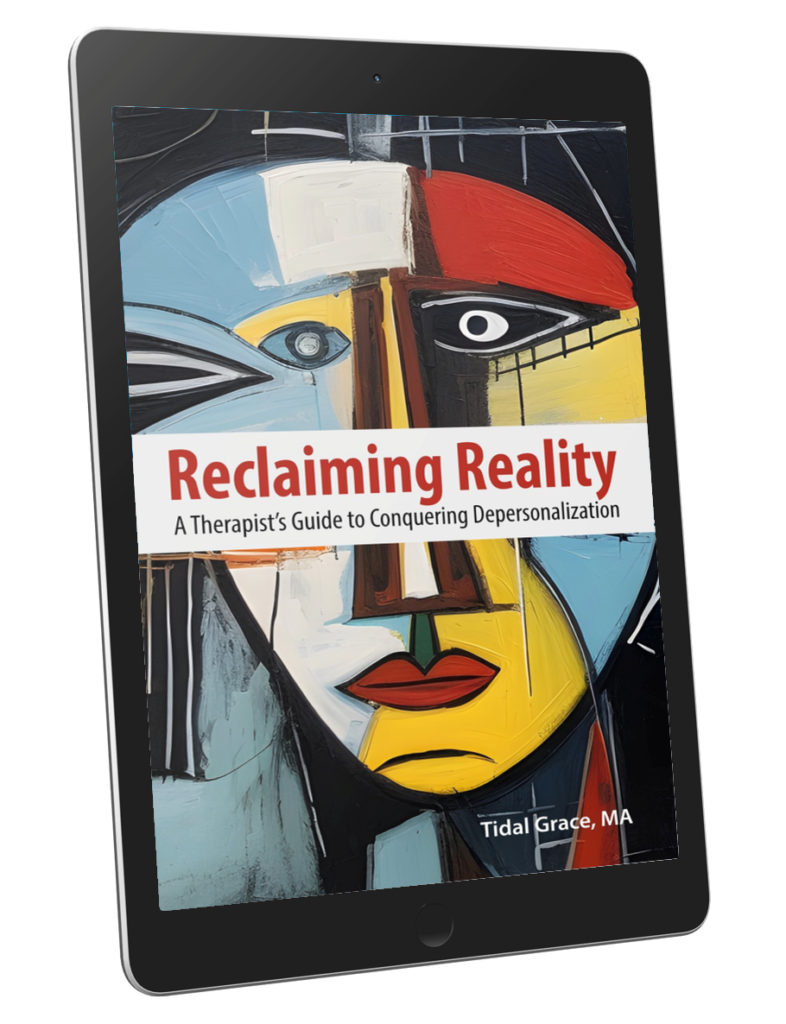 Overcoming Depersonalization: A Therapist's Perspective
In "Reclaiming Reality: A Therapist's Guide to Conquering Depersonalization," I share more than just a literary piece—it's a snapshot of my life and a highly recommended depersonalization book. As a therapist who has personally grappled with the disorienting journey of depersonalization, I extend an invitation for you to join me on an intimate exploration of this often misunderstood condition.
Understanding Depersonalization
Depersonalization often manifests as a silent thief, robbing us of our connection to reality, ourselves, and our surroundings. However, we don't have to accept this as a permanent state. Drawing on both personal experiences and current research, this book on depersonalization will guide us through the terrain of the condition. We'll delve into its historical context, explore its numerous triggers, recognize its presence, and learn to manage its complex impacts.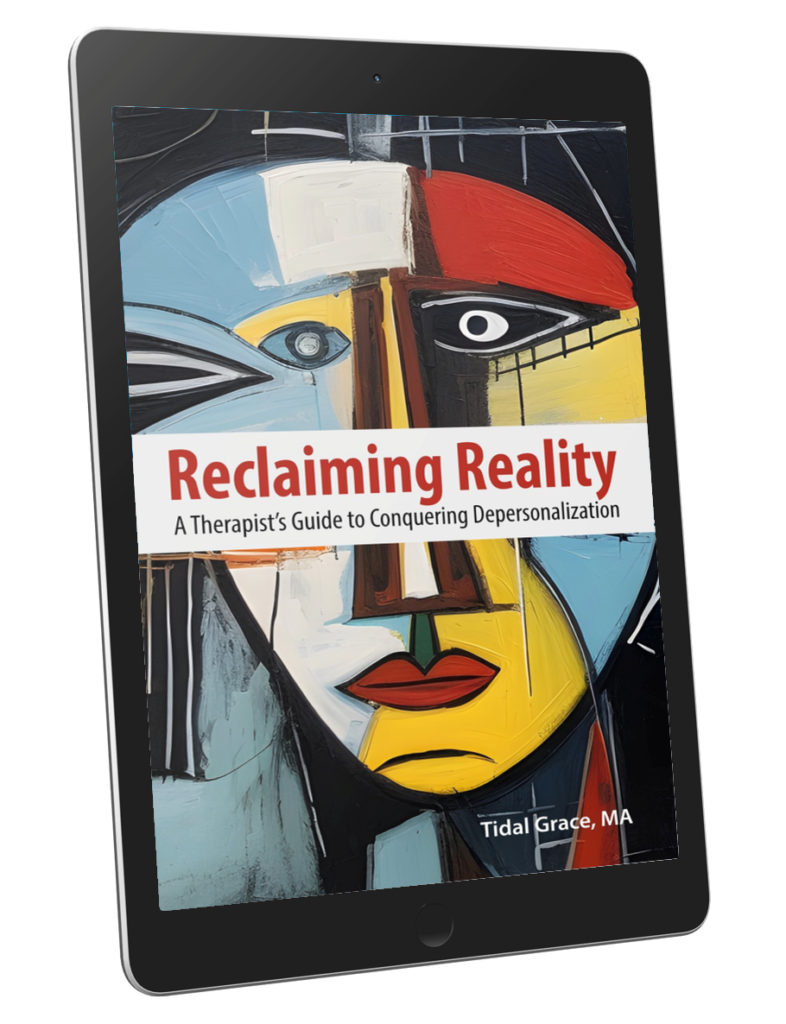 Treatment and Overcoming Techniques
This depersonalization book goes beyond merely understanding the condition. Indeed, it's about reclaiming your reality. Together, we will explore various treatment options such as medication, Cognitive Behavioural Therapy, Internal Family Systems therapy, and innovative therapies like art and drama. In addition, I will share helpful strategies that have enabled me to manage and eventually overcome depersonalization.
The Beacon of Hope: Reclaiming Reality
Through "Reclaiming Reality: A Therapist's Guide to Conquering Depersonalization," my goal is not only to provide a resource for therapists, individuals living with depersonalization, and their loved ones. Above all, it's my desire to light a beacon of hope—evidence that with understanding, resilience, and the human spirit, we can confront life's most perplexing problems and emerge stronger. So join me in this journey as we navigate this essential book on depersonalization, and let's reclaim reality together.
"Tidal Grace's 'Reclaiming Reality' is an incredibly insightful and poignant guide for therapists and individuals struggling with depersonalization. Grace's personal experience with the disorder shines through every page, creating a deeply relatable and empathetic journey. The book offers a perfect balance of clinical expertise and personal anecdotes, making it an invaluable resource for anyone seeking to understand and conquer depersonalization."
"… a groundbreaking and compassionate exploration of depersonalization. Through his unique blend of professional expertise and personal experience, Grace offers practical advice and profound insights. This book is a must-read for therapists and individuals alike, providing hope and guidance in the face of this enigmatic disorder."
"In 'Reclaiming Reality,' Tidal Grace delivers a heartfelt and courageous account of his personal journey with depersonalization. His honest and compassionate approach creates a safe space for readers to find solace and strength."
The Artistic Side of Therapy
Firmly believing in art's therapeutic benefits, Tidal extends his expertise beyond conventional therapy. He organizes theatre workshops worldwide, merging psychotherapeutic play with the potency of lived experiences. These immersive workshops bring individuals closer to their true selves, unlocking growth and resilience against mental health issues.
Reclaiming Reality: Conquering Depersonalization
In his depersonalization book, "Reclaiming Reality: A Therapist's Guide to Conquering Depersonalization," Tidal blends academic, clinical, and artistic prowess, offering a comprehensive guide for navigating depersonalization. Drawing on his experiences and current research, he shares effective strategies for identifying, managing, and ultimately conquering depersonalization. His unique perspective, shaped by his autoethnographic play and theatre workshops, infuses the book with a dynamic and deeply personal touch.
Beyond Clinical and Artistic Endeavours: Mental Health Advocacy
Tidal's dedication to raising mental health awareness and dismantling associated stigma goes beyond his clinical and artistic pursuits. He actively engages with global communities, speaks at conferences, and facilitates workshops to foster understanding and empathy. His commitment to destigmatizing mental health challenges fuels his work, providing hope and inspiration to individuals living with depersonalization and their loved ones.